21 Mar

Design of the times

Invented in 13th century Italy, spectacles have come a long way from hand-made eyeglasses in the 1700s and early attempts at Victorian mass-production.

The comprehensive choice of spectacles in any optician's practice owes much to this product's rich history.

Many of today's design trends can be traced back to a particular person or event. For example, the 1920s Hollywood star Harold Lloyd pioneered the combination of round lenses in tortoiseshell spectacles – a look that remains popular to this day, particularly in sunglasses.

Sunglasses technology advanced rapidly during World War II to help pilots navigate in the skies, while our obsession with fashion throughout recent decades has encouraged many people to use spectacles as a style piece or as a statement of their personality.

Take a look at the spectacle designs in stock in our practice and you will see numerous variations on a couple of core themes. Full frame glasses are ideal for patients with stronger prescriptions and some of the bolder designs can help to accentuate facial features like cheekbones and eyebrows.

Semi-frameless glasses have their lenses suspended along a thin top bar and these are perfect for slimmed-down lenses and mild prescription strengths.

Advances in the manufacturing of glasses have enabled both frames and lenses to become thinner and stronger at the same time and slimline rectangular glasses are regularly chosen by patients of all ages.

Meanwhile, bold retro frames remain popular among younger people who want statement pairs that suit their facial shape and characteristics.

Many of last year's designer spectacle ranges referenced fashions from the 1950s and 1970s, with oversized frames expected to be popular throughout 2016.

With so many designs to choose between, patients are increasingly deciding to have more than one pair of glasses. Stylish frames for socialising can be balanced against more practical pairs with slightly larger lenses for everyday duties like driving.

Technological advances have also made spectacles more affordable than ever, so it's easy to keep up with changes to your prescription strength or evolving fashions.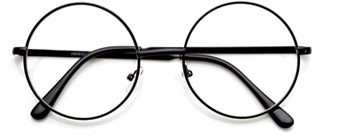 Did you know? Many of the most enduring frame designs can be directly attributed to a single celebrity, from John Lennon's circular spectacles to Audrey Hepburn's outsized 'Breakfast at Tiffany's' sunglasses.
Come into the practice to see everything that we have to offer you.